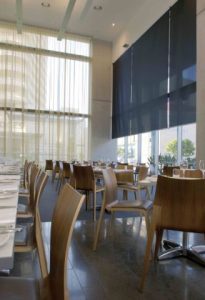 There's certainly no question that the winter sun coming through the window glass can warm the room. While it's nice in cooler climates to have some sunlight come through the windows, do you know that it's possible for the sun's rays to cause such intense glare that plastic and vinyl can melt? The top of the television, the edge of the computer, wires exposed to the rays, and vinyl blinds are all subject to heating and melting. You can eliminate the intensity of winter sun glare with the addition of solar screens and shades. Eclipse solar screens can absorb and reflect up to 95% of the heat and glare away from the building.
Eclipse Shading Systems® retractable shades and solar screens are interior mounted and controlled. Interior retractable solar shades are an excellent option for sun glare protection for your home or your business. Few things are more annoying at work than the sun blocking the view of your computer screen or beating down on the back of your neck, resulting in a headache. How about when you're in a restaurant and the sun is so strong on your table that you can't enjoy your meal? When the sun is at its strongest, put sunglasses on your windows with Eclipse Shading Systems retractable solar shades.
We just can't say enough good things about our Eclipse interior retractable solar shades and screens and neither can our customers. They rave about our shading products, professionalism, customer service, and installation. Eclipse Shading Systems customers know that solar shades and retractable awnings are the best investment you can make in your home. Call your Eclipse Shading Systems dealer today and learn more about our full line of interior solar shades and screens.
THE ULTIMATE SUNBLOCK™